Ich staune immer wieder, wie lange ich mich schon mit Quilten und Sticken beschäftige. In den Jahren meiner ausfüllenden Berufstätigkeit habe ich zwar kaum Zeit dafür gehabt und die Ideen sind auch wieder versandet, aber ganz war es nie verschwunden. Ich empfinde es als wirkliche Bereicherung, jetzt so viel Zeit dafür zu haben.
I´m always astonished how long I deal with quilting and embroidery. During the years of my fullfilling professional life I didn´t have much time but once in a while I could realize some ideas. Now I´m so glad to have enough time to do it.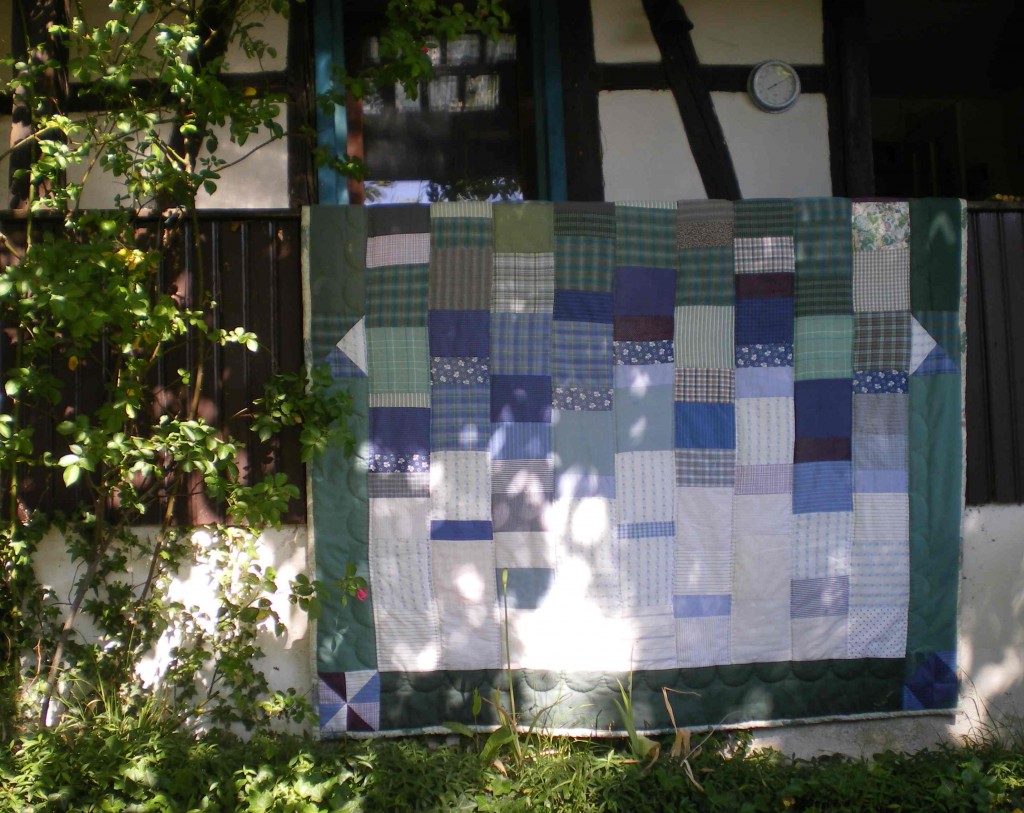 Das ist mein allererster Quilt, genäht in den späten 80 ern. Den Stoff hatte eine Bekannte aussortiert und ich war ein eifriger Abnehmer. Inzwischen sind Teile davon schon ausgeblichen, aber das stört den Gesamteindruck nicht.
This is the first quilt I ever made. Is must have been in the late 80 ´s . Some of the fabric is faded but that works well with the rest.
Das Bild ist in einem Urlaub in der Bretangen entstanden – 1992. Von meinen ersten Versuchen mit Seidenmalerei waren einige Stücke übrig geblieben, die ich in diesem Bild verarbeitet hatte. Heute würde ich die Stickerei anders anlegen, aber damals habe ich einfach ausprobiert.
I made this during a vacation in Britanny 1992. It is handpainted silk – some left overs from other works. Today I would arrange the embroidery in a different way.