Ich habe mir eine Woche gegeben mein Arbeitszimmer auszumisten und neu zu organisieren. Ich werde kein Foto von dem Chaos zeigen, in dem ich gerade sitze. Ich will es diesmal wirklich gründlich machen und jedes Stück in die Hand nehmen und entscheiden, was damit zu tun ist. Seit Wochen räume ich jetzt schon hin und her – Malsachen her, Nähsachen weg. Dabei hätte eigentlich beides Platz, wenn ich es etwas geschickter aufteile.
I gave me one week to declutter and reorganize my workroom. I won´t post a pic of my mess. This time I will do it properly and decide for every piece what to do with it. Since weeks I rearrange every time I want to sew or to paint and draw. But both is possible with some little changes.
Beim Räumen fallen einem natürlich Dinge in die Hände, die sehr viele Erinnerungen wecken oder auch nicht – nur Erstaunen.
There are a lot of finds with memories and some I hadn´t thought about in decades.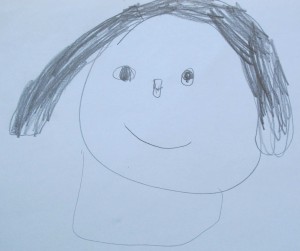 Wenn jemand wissen will, wie ich vor 25 Jahren aussah….. Ein Erstklässler hat mich damals portraitiert. :-)
If you want to know how I looked like 25 years ago … A firstgrader made a portait of me :-)
Zu ungefähr derselben Zeit habe ich damals einen Aquarell-Kurs in unserem Museum gemacht. Jeweils abends im leeren Museum – eine sehr schöne Atmosphäre. Aber ich konnte mich nicht mehr daran erinnern, bis ich die Bilder gefunden habe. Ich bin sicher, das Aquarell habe ich nach einem Gemälde im Museum gemacht, aber keine Ahnung welches es war. Eigentlich finde ich es ganz gut gelungen. Ich werde mal wieder hingehen und mich auf die Suche machen.
It must have been at the same time when I took a watercolor- class at our museum. It was in the evening – no other visitors beside us – a very special beautiful atmosphere. I completely forgot it since now. This watercolor must be a copy of a painting in the museum. But I don´t remember which one. It s not bad, I think. I have to go there to find the original.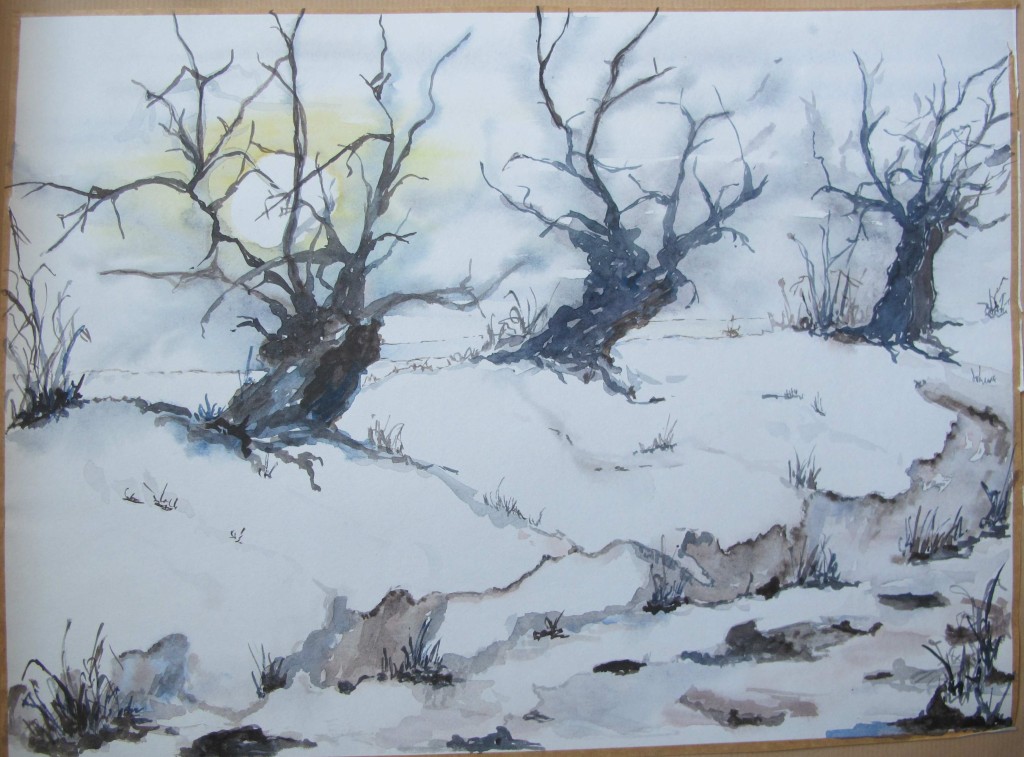 So, jetzt habe ich eine lange Pause gemacht – also wieder ran an die Stapel. Wünscht mir Courage für den Rest.
So my break is over …. no reason to procastinate more. Wish me luck and courage.