Schon vor einiger Zeit habe ich mich mal an Zentangles versucht. Es gibt viele Seiten im Internet mit genauen Beschreibungen (z.B. hier und hier) .Aber irgendwie war ich nie zufrieden mit meinen Ergebnissen. Bis ich in Cheryls Blog auf dieses Buch stieß: 
Since a while I tried to make Zentangles. There are a lot of descriptions on the internet (here and here). But I didn´t like my results. Then I found this book on Cheryls Blog.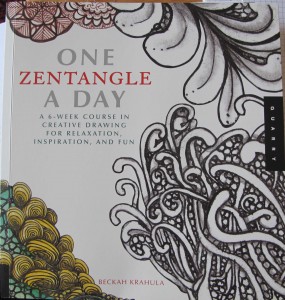 Für mich ein toller Einstieg! Seither genieße ich jeden Tag ein paar Minuten die Ruhe und Konzentration beim Malen. Hier ein paar Ergebnisse von meinen ersten Versuchen:
What a great start! Now I love to draw Zentangles und enjoy every day some minutes of silence and conzentration. Here some examples of my first tries.
Auch wenn es nicht perfekt ist und noch einige Fehler drin sind, macht es doch Spaß und sieht gleich sehr effektvoll aus. Und es entspannt…..
Even if there are some mistakes  – I´m quite happy with these first steps. And it is relaxing….