Seit einiger Zeit beschäftige ich mich mit dem Thema "Tore". Habe viele verschiedene fotografiert und darüber nachgedacht, wie ich es in Stickerei umsetzen könnte. Mit den neuen Erfahrungen im Filzen hatte ich einen ersten Zugang gefunden. Grundlage für die erste Arbeit ist ein Foto vom Orta-See in Italien.
Since a while I think about "gates". I made a lot of photos and collected ideas how to transform it in embroidery. My new experiences in felting gave me an idea for a first approach. It is based on a photo of a lake in Italy.
Mit der Maschine aufgenähtes Filzstück. Ich habe dabei erste Erfahrungen mit dem Freihandquilten gesammelt.
First steps in machine free motion quilting.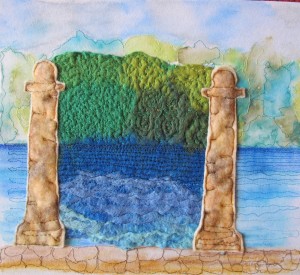 Alles noch sehr im Versuchsstadium. Der nächste Schritt wird sein ein Zaun, Tor (geöffnet, halb geöffnet oder auch gar nicht) hinzuzufügen. Es macht Spaß, bringt neue Erfahrungen – das ist die Hauptsache.
It is really just a try. Next step will be to add a fence, gate – perhaps open or half open or not at all…. A lot of fun and a lot of new experiences!