Ich wollte diesen Block schon immer mal nähen. Aber …. 1. kapiere ich selten komplizierte Anleitungen, 2. hatte ich noch nie Runden genäht und 3. ich hatte noch nie paper piecing mit der Maschine genäht. Aber wer wird sich schon von solchen Kleinigkeiten abhalten lassen!
I always wanted to sew this pattern. But …. 1. I rarely understand complicated tutorials. 2. I never have sewn round seams and 3. I never did paper piecing by machine. But these are bagatelles and they could not stop me.
Also suchte ich eine einfache Vorlage und eine weniger einfache Anleitung mit vielen Bildern. Wichtige weitere Voraussetzung: heute Abend fühlte ich mich geduldig.
So I searched an easy pattern and a not so easy tutorial with a lot of pictures. And another important requirement: today I seemed to be patient.
Los gings! And go…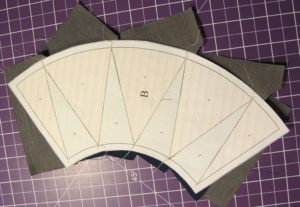 Es hat gedauert, bis ich sicher wusste, wie ich den Stoff anlegen musste. Da half es kaum mehrmals auf die Anleitung zu schauen, hin- und herwenden ging besser.
It took some time till I new for sure how to put the fabric on the pattern.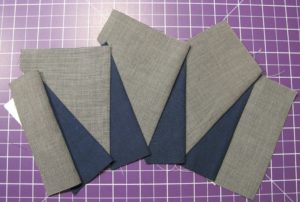 Soweit war ich schon mal! Jetzt noch trimmen.
But it works!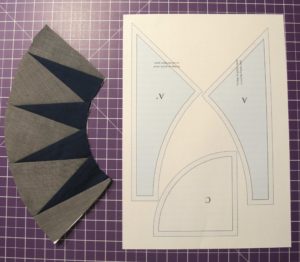 Und dann den restlichen Stoff zuschneiden.
And then cutting out the other parts.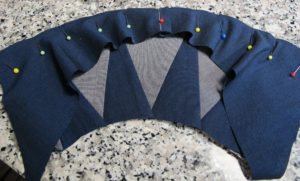 Der äußere Kreis war nicht so schwierig. Ich hatte auch das Papier beim Nähen noch drangelassen.
The outer circle wasn´t so complicated. And I left the paper on the backside.
Der innere Kreis hat mich ein wenig nervös gemacht, deshalb habe ich auch glatt vergessen Fotos zu machen. Das Papier musste jetzt weg, damit ich den Stoff dehnen konnte. Die Maschine mochte die eng gesetzten Nadeln nicht – auch das noch. Aber ich hatte ja meinen geduldigen Abend!
The inner circle made me nervous, therefor I forgot to take pictures. I removed the paper so the fabric could be stretched a bit. But my machine didn´t like all these pins….. But I had my patient evening.
Tadaaaah: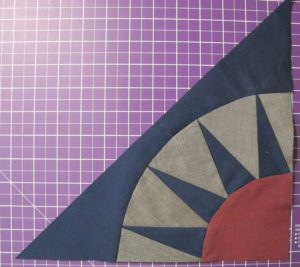 Wenn man nicht so genau hinschaut, geht es doch oder? Jetzt bräuchte ich noch drei weitere geduldige Abende für die nächsten 3  Viertel.
If you don´t look at it too closely, it seems to be o.k. Now I need three patient evenings more to finish the square.