Once a year I am having a girls weekend with three of my oldest friends. I know them since kindergarten and only two years ago we decided to explore Europe together once a year. So the first year we were in Paris and last year in Barcelona. This year?…. We don't know yet…
So I flew into Barcelona from Berlin. The trip was in October (i think?) and leaving early in the morning in Berlin I got onto the plane with a scarf and a woolen hat to fight the ice cold wind. Stepping out of the plane in Barcelona was a relief: 20 degrees and sunshine. I noticed one time I had forgotten my shades at home…
Our hotel was in the center of the city which was an excellent choice. It was in one of the really old buildings and just quite newly renovated. I love the mix of old and modern architecture so it was fantastic. The hotel had a little terrace which we didn't get to use because we were out all the time. But for a longer stay and in the summer it would have been great.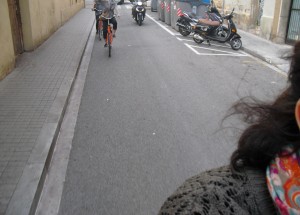 For the first time being in a foreign city we rented bicycles. And this from now on, is really my favourite choice of transportation as a tourist. At first I was really insecure about it. Spanish traffic usually scares the hell out of me, but surprisingly Barcelona is a bicycle city. Lots of bike lanes and car drivers seem to be used to riders by now due to their city bikes for locals that you can find at every second corner. Anyways, we got to see a lot more on one day compared to walking around and I wasn't nearly as tired afterwards as I would have being on foot.
When I am in Spain I always love going to markets. Being a food person, it is so exciting for me to see all the different food and experience the smells. I don't know really why it is like that, but spanish markets are so much more passionate and 'real' about their food then german markets. (excuse my weird English :- )
Unfortunatly after two days of wonderful sunshine rain hit us, but over all, that short trip to Barcelona made me wanna see more of it and I would love to come back late spring or late summer some time. I am definitly hooked.