Vorab muss ich sagen, dass ich keinerlei Ahnung vom Färben mit Naturmaterialien habe. Ich habe es mit Tee und Walnuss probiert, im letzten Sommer habe ich einen wirklich guten Indigo-workshop von Ulrike mitgemacht. Aber ich hab dann beschlossen, das ist nicht mein Thema. Für meinen Geschmack viel zu viele Zufallsergebnisse – was natürlich an mir gelegen hat. Und die Farben sind für meinen Gefühl auch immer zu gedeckt. Auch wenn ich oft wirklich wunderschöne Arbeiten gesehen habe, aber….
First I have to say that I don´t have a clue about dying with natural colors. I already tried tea and walnut, last summer I took Ulrikes workshop "dying with indigo" – very good really! But I finally decided that dying is not my thing at all. Not predictable, and the colors always a little sad. Even if I often have seen really beautiful work. But ….
Jetzt ist das Thema "Färben und Überfärben" ein Thema bei Jude Hill´s Workshop " What iff". Unter dem Motto: Färbe mit dem, was du zur Hand hast". Und ich muss sagen, ich bin beeidruckt – stark beeindruckt. Sie bekommt wirklich die ganze Farbpalette zusammen. Also doch, ich probiere weiter aus!
Now "Dying and Overdying" is the subject of Jude Hill´s "What iff" workshop. The motto is: dying with what you have…
And I have to say: I´m impressed- very impressed. She can really produce the whole spectrum of colors. So I´ll give it a try again.
Zuerst eine Färbung mit Granatapfel. Ergab bei mir einen blassgelben beigen Ton. Sehr blassgelb…( leider kam es auch nach mehreren Versuchen mit dem Foto nicht besser raus)
First I dyed with pomegranate. A pale yellow beige. Very pale…. ( don´t trust the picture, I didn´t get it better)

Na, ja…. dann hab ich bei Patricia so tolle Beispiele gesehen und die erzählte etwas von Kurkuma, dass ihr zu leuchtend war. Ich habe schon so oft ergebnislos versucht Curryflecken aus weißen T-shirts rauszubekommen, also wieso nicht. Im Schrank fand sich ein etwas altes Curry, zu alt zum Kochen. Aber nicht fürs Färben:
Well …. then I saw Patricias wonderful exemples and she told me about tumeric. I rememberd that I had no luck to wash out curry stains of white t-shirts. So I found an old curry can – to old to use it for cooking but not for dying: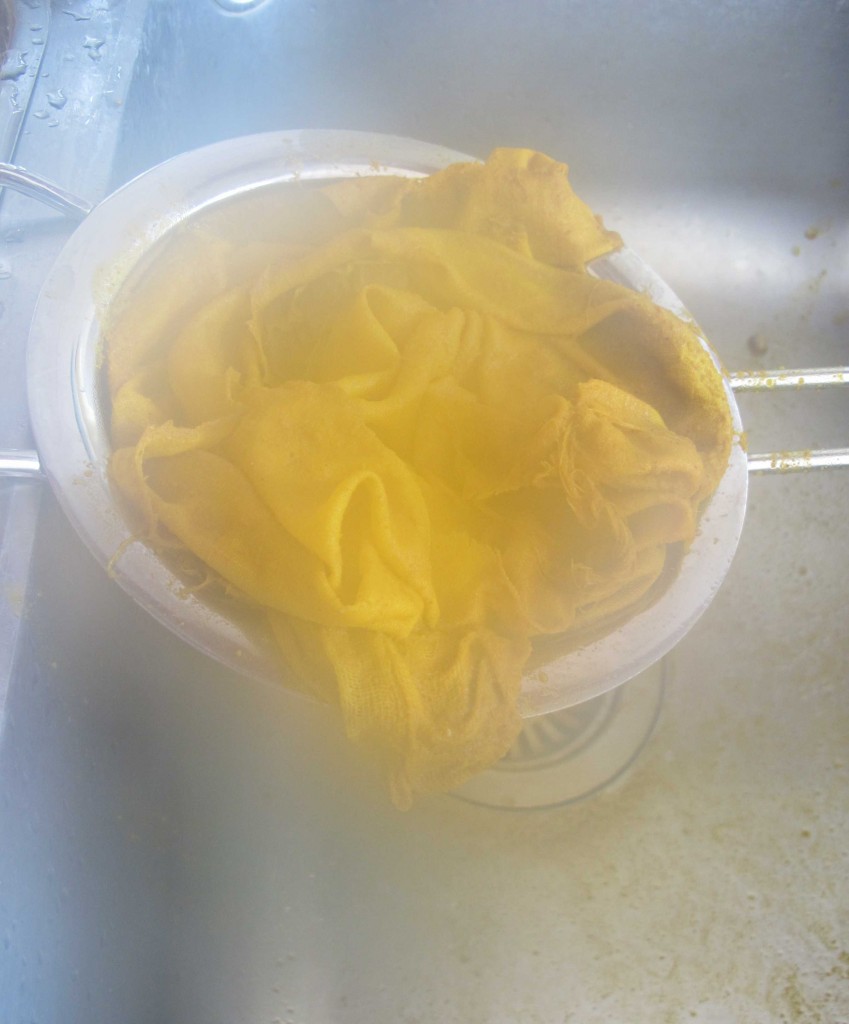 Das erste Stück, das ich aus dem Topf gefischt hatte, wurde sehr schnell orange. Da habe ich für die restlichen Stücke noch Essig hinzugefügt. Hier sieht man es ganz deutlich:
The first piece I´ve got out of the pot turned orange very quickly. So I added some vinegar. You can see the difference.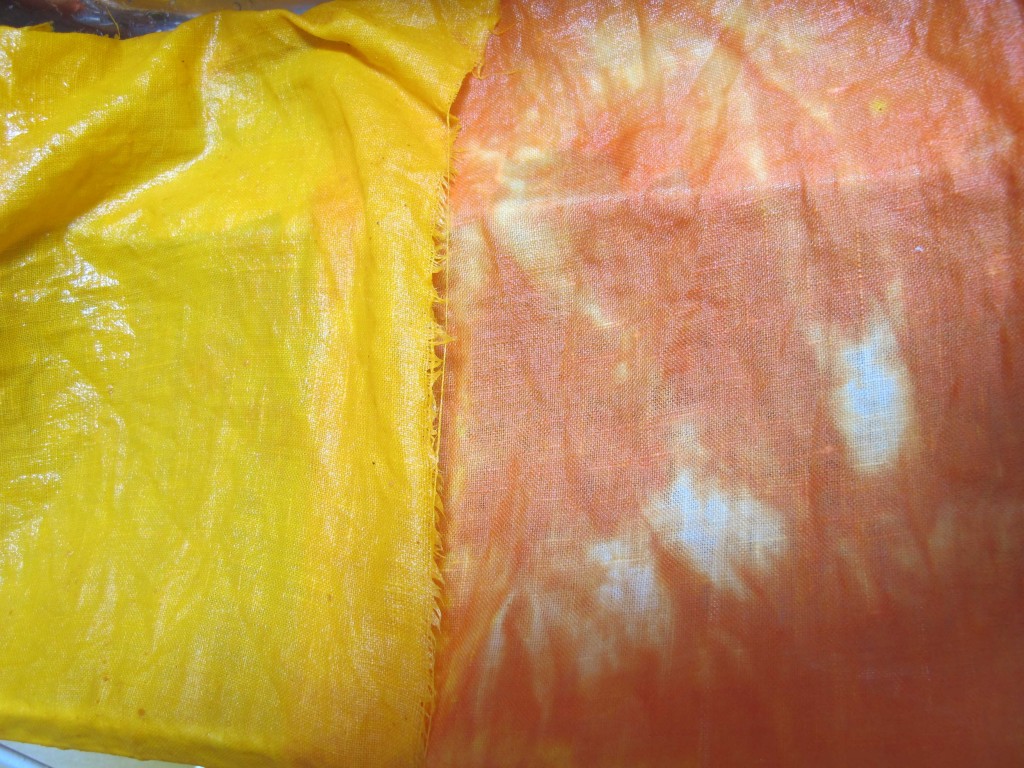 Hier ist das ganze Spektrum meiner Versuche bisher:
1 – Granatapfel (gelbbeige), 2 Zwiebel, 3 Currypulver ohne Essig, 4 Currypulver mit Essig
Here you can see the spectrum of my tries:
1 pomegranate ( yellowish beige) 2 onion 3 curry without vinegar 4 curry with vinegar
Und hier noch etwas ganz Besonderes. Heute kam ein Brief von Eva mit ihren Schätzen aus dem Workshop bei India Flint, an dem sie in diesem Sommer in England teilgenommen hat. So wundervolle Stücke….
And here something very special. Today I´ve got a letter from Eva with lovely pieces from here workshop with India Flint, she took this summer in England. A real treasure…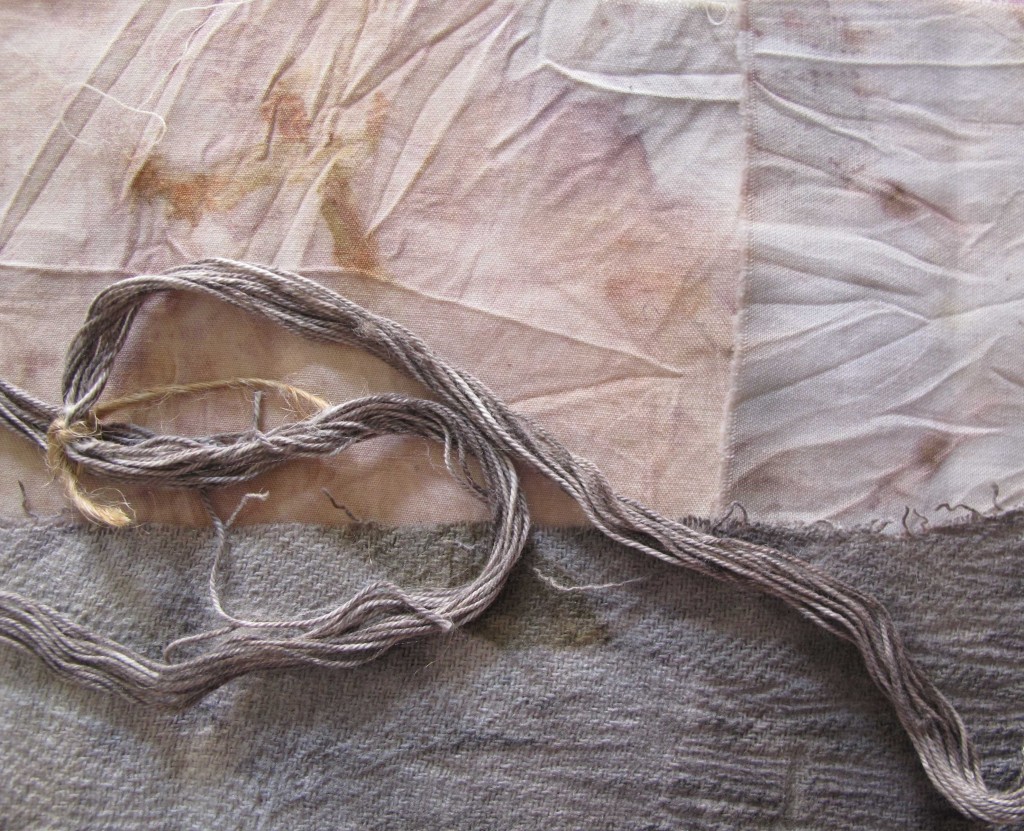 Und hier noch ein Versuch: etwas weniger Curry dafür noch Schwarztee dazu ( beide Stücke rechts)
Another try: less curry and some tea added ( two pieces at the right)