Schon im letzten Mai hatte ich mich zu einem Workshop mit Jude Kingshott und Brunhilde Scheidmeir in der Textilwerkstatt Speyer angemeldet. Thema: Indigo, Ecoprint und Books. Ende Februar war es dann soweit: 4 wunderbar inspirierende Tage in Speyer. Obwohl mein Schwerpunkt ja eigentlich auf der Arbeit mit Stoff liegt, haben mich die beiden Kursleiterinnen doch so animiert, dass ich mich auch auf die Arbeit mit Papier einlassen wollte.
Vor Jahren hatte ich ja schon mal ecoprint ausprobiert, war aber nur mäßig begeistert von meinen Ergebnissen. Auch jetzt wurde mir von Tag zu Tag klarer, dass mich eigentlich das zu realistische Abbilden von Blättern und Blüten nicht so begeistert, aber die Farbeffekte, die dabei entstehen können, sind phantastisch. Da will ich unbedingt weitermachen, hab schon das Zubehör besorgt.
Einen Teil der Prints wurden auch auf Stoff gemacht, in die hab ich mich sofort verliebt. Hier hab ich auch schon eine Idee, was ich damit mache…. ( Ach ja, tausend Ideen und begrenzte Zeit) .
Last year in May I subscribed the class: Indigo, ecoprint and books with Jude Kingshott and Brunhilde Scheidmeir in Textilwerkstatt Speyer. End of February I spend 4 wonderful days in Speyer. Even if I´m focused on working with fabric  – to work with these two teachers was very tempting. So I decided to give paper a chance.
Years ago I did some ecoprint and wasn´t very thrilled about the results. During these 4 days I realized that I´m not so fond of a realistic copy of leaves and flowers. But the effects in color and shapes have been phantastic.
Some of the prints we made on fabric and I immediately fell in love with these. I have some ideas how I will use them. ( So many ideas and so little time..)
Hier die ersten Ergebnisse in Blauholz gekocht. Na ja…. / first day: paper cooked in lockwood… not so interesting in my eyes
Das ist schon besser. Die roten Punkte sind Krapp. Better ! Red dots are made with madder. I love madder!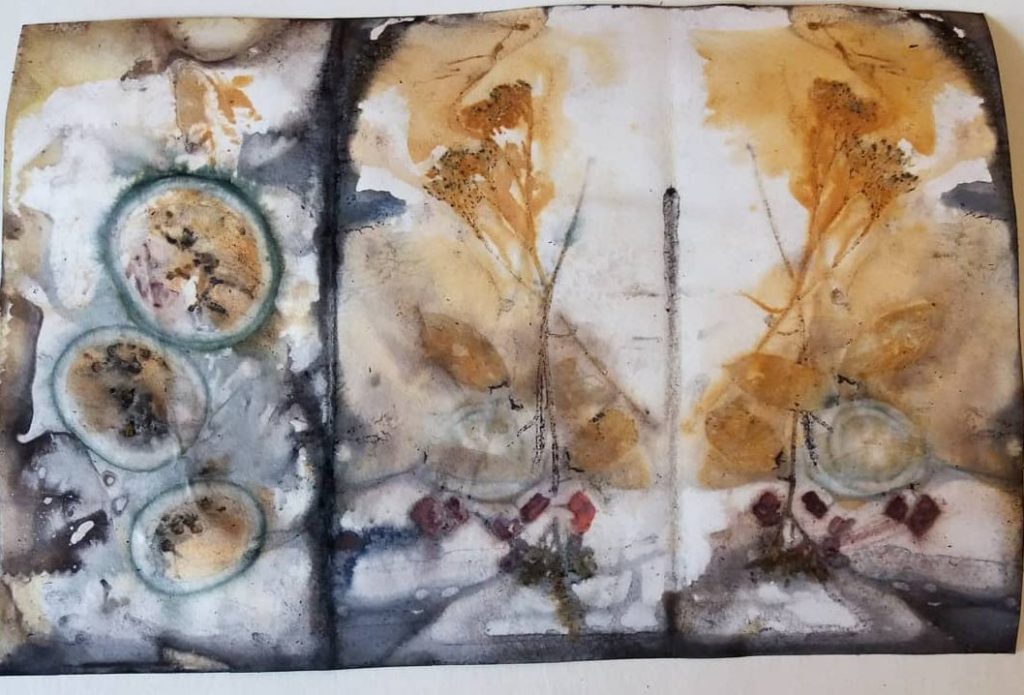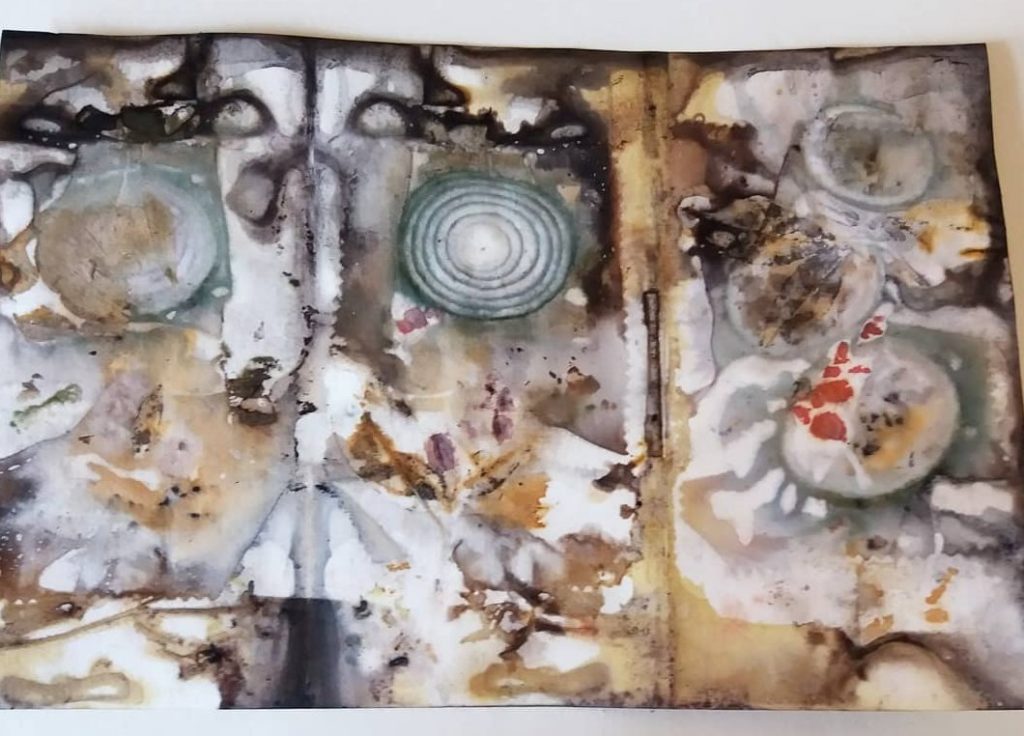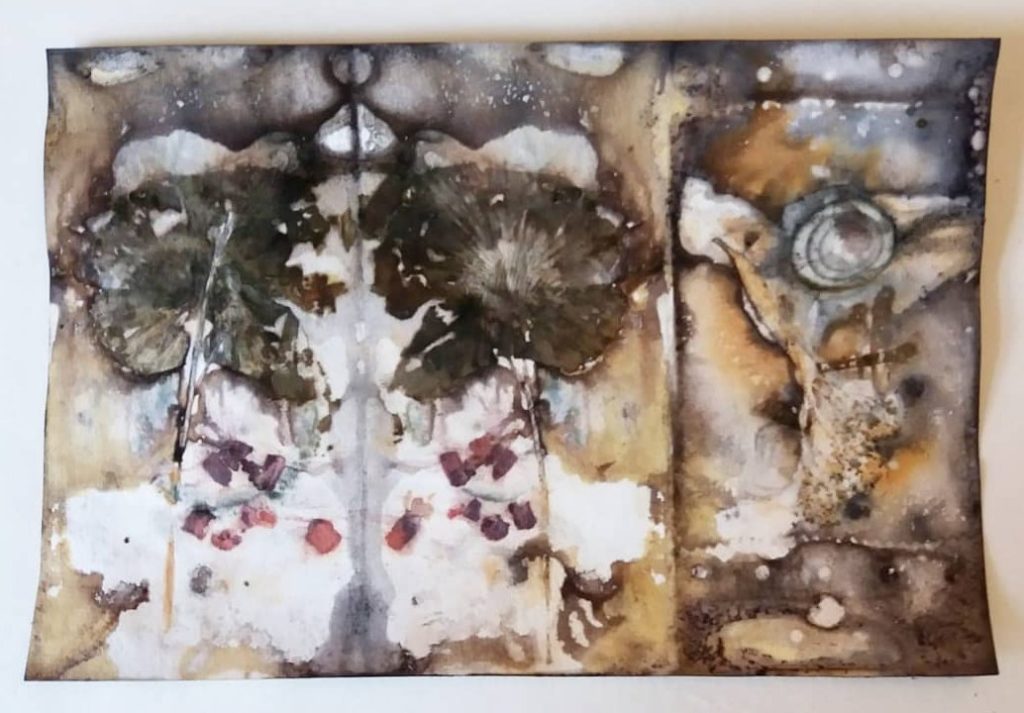 Und hier wird es jetzt richtig wild. Das gefällt mir./ No I go wild … I love it.
Besonders toll finde ich allerdings die Ergebnisse auf Stoff:
These are the results on fabric, aren´t they beautiful? :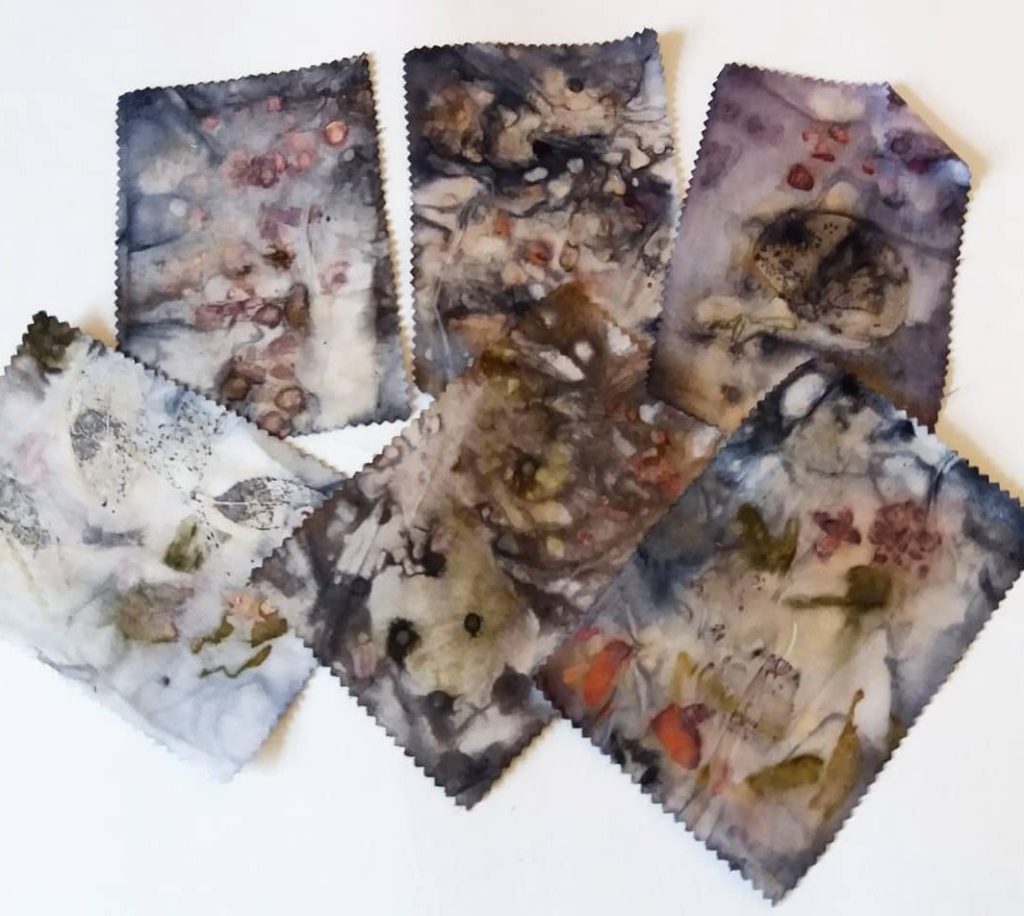 Und mein absoluter Lieblingsdruck/ my favorite:
Jude Kingshott lehrte uns Buchbinden, dazu haben wir das mit Indigo gefärbte Papier verwendet.
Jude Kingshott teached us bookbinding, we used our indigo dyed paper.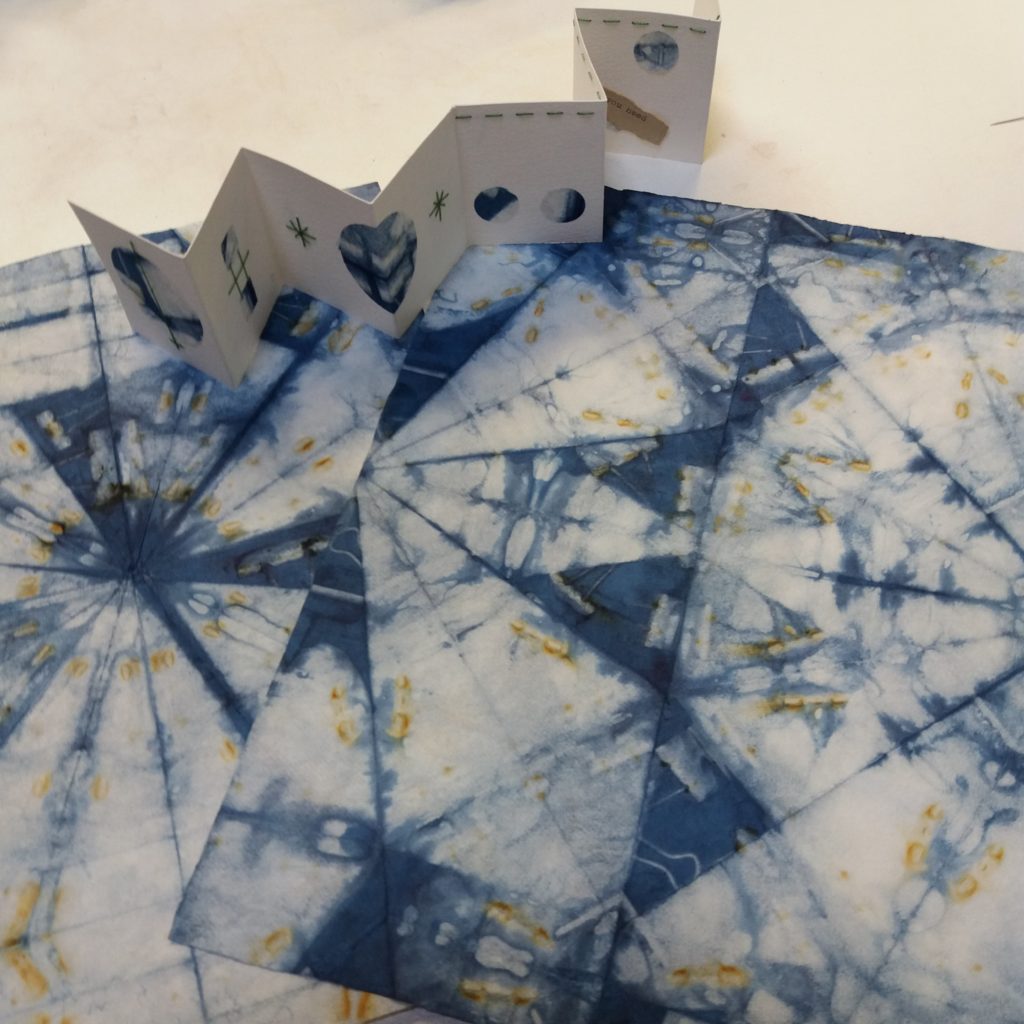 Mein Büchlein (5x6cm): / my little book ( 5x6cm)