Am letzten Wochenende habe ich an einem Workshop im Textilstudio Speyer teilgenommen. Thema: Boro Quilts: Blueprint, Indigo, Sticken mit Brunhilde Scheidmeier und Sabine Jeromin-Gerdts.
Es waren wundervolle entspannte, kreative Tage mit angenehmen und inspirierenden Teilnehmerinnen. Wir fühlten uns gut betreut von den Leiterinnen und ich habe viel gelernt.
Last Weekend I took a class in Textilstudio Speyer called: Boro Quilts: Blueprint, Indigo, Stiching. Teachers: Brunhilde Scheidmeier and Sabine Jeromin-Gerdts.
It was a great creative and relaxing weekend with inspiring classmates. Our teachers supported us in a wonderful way and I learned a lot.
Blueprint – eine sehr interessante Sache. Ich habe nur reingeschnuppert aber gleich viele Ideen bekommen, was man damit alles machen kann.
Blueprint –  a very interesting subject. We had just a peek but I´ve got a lot of ideas and will follow this later.
Indigo – ich liebe diese Farbe, habe aber tüchtig Respekt vor der Kompliziertheit des Vorganges. Gut, der ist nicht geringer geworden. Ich werde das wohl nicht selbst ansetzen, aber jede Gelegenheit nutzen, die sich bietet, da noch weiter zu lernen.
Indigo – I love this color but I had a lot of respect of the process of dying. So this didn´t change. I think I will not follow this by myself but search further opportinities to learn more.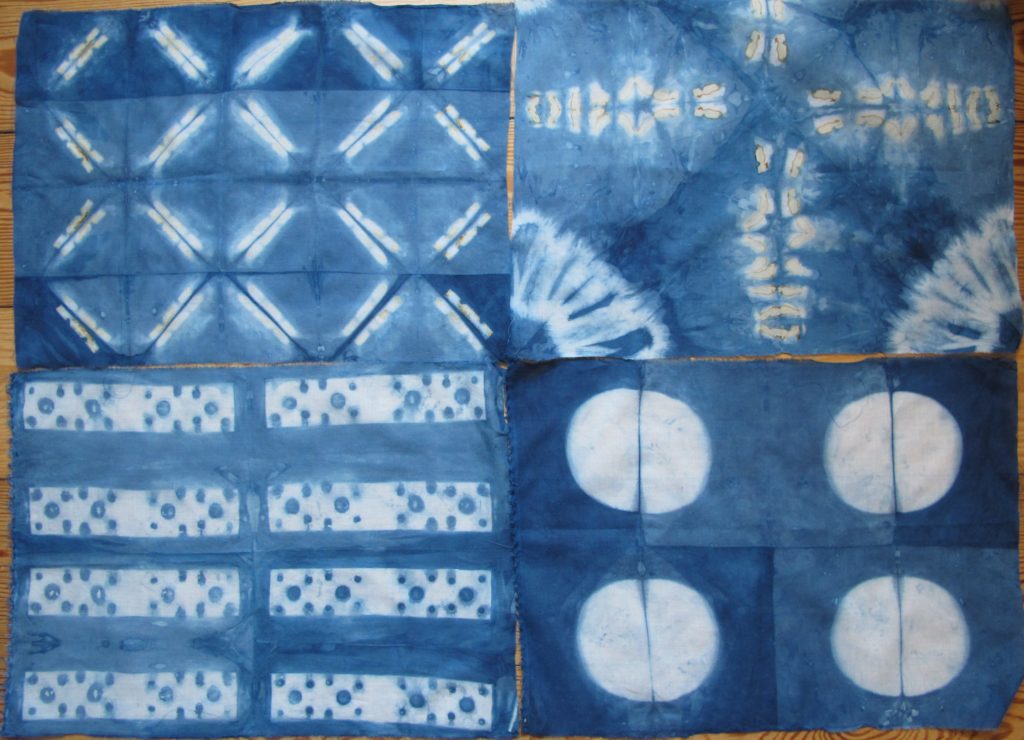 Boro – das fand ich schon immer sehr interessant und die Arbeiten strahlen so eine Kraft und Ästhetik aus. Das hat mich gereizt.
Boro – I always was interested in that. There is so much power and aestetics in this art.
Als es am zweiten Tag daran ging, die Stoffe für die eigene Arbeit zu arrangieren – ja, da wurde bei mir etwas anderes draus. Ich hab noch mal versucht, es so zu verändern, dass es irgendwie in Richtung Japanisch Boro geht, aber es wollte so bleiben. Also gut! Ich sagte mir, sei offen für das was passiert und versuche nicht etwas zu erzwingen. Vielleicht entwickelt sich eines Tages ein Boro-Stück ganz alleine , weil es grad passt. Jetzt habe ich also hier ein Bild mit Tiefenwirkung, das mich irgendwie gefangen nimmt. Ich bin dabei es eng mit Kantha-Stichen zu besticken und experimentiere mit Farbschattierungen. Und … einige Ecken sehen ein wenig nach Boro aus.
The second day we started to arrange our scraps of fabric … now on my table something different happend. I tried to change it a bit, wanted it to look more like japanese, but it wanted to stay. So well! I told myself be open to what will happen and don´t try to force something else. Some day perhaps I will make a small boro piece. Now I have a piece with a certain depth, that catched me. I´m doing a lot of kantha stiches and try out different color shades. In some areas it looks a little as Boro.