Ein neuer Quilt auf meinem Tisch. Enkel Nr. 3 bekommt jetzt auch einen "Erwachsenenquilt" ….. bevor Enkel Nr.4 einen Babyquilt braucht. Der Opa hat vor einiger Zeit seinen Schrank ausgemistet und da fielen einige Hemden für mich ab. Die ersten Versuche mit schrägen Sternen gefielen mir nicht so gut, zu unruhig in der Farbpalette.
An new quilt for grandchild N° 3. He has to have his big one before grandchild N°4 needs his babyquilt.
His granddad cleaned his closet and he left a lot of shirts for me to use. My first try with wonky stars didn´t convince me because the colors and patterns are too busy.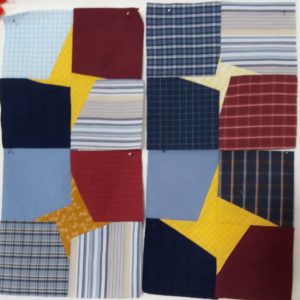 Habe lange überlegt und mich dann für einen hellen Stoff zur Beruhigung entschieden.
After pondering a while I decided to add more light colors.
Hier jetzt noch ein paar mehr Sterne, aber die Anordnung wird eine andere werden. Dann wird sich rausstellen, ob ich mit der Stoffauswahl zufrieden bin.
Here some more stars but the arrangement will change. Then I can decide if it´s ok for me.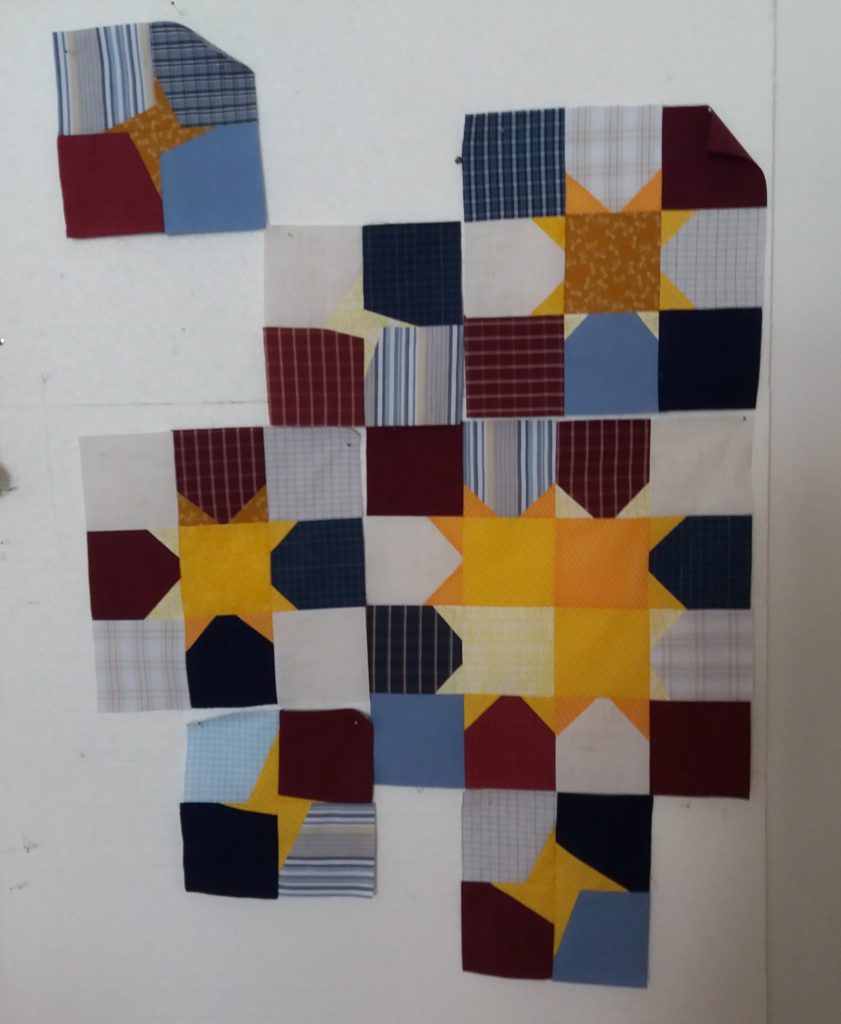 Ich hatte ja für Enkel Nr.1 eine abknöpfbare Rakete gemacht. Er ist ja schon groß und bald ist es ihm zu kindisch. Enkel Nr. 3 wünscht sich eine, die festgenäht ist, er ist ja noch klein und hat ne Weile was davon. Also werde ich sie festnähen.
Grandchild N°1 has a removable rocket. He is in between child and adult and don´t want it any more. But the little one wants his rocket sewn on the quilt. So I will do.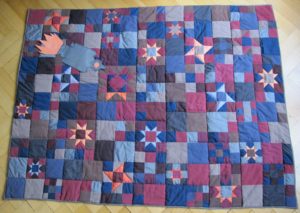 Schlagworte / Tags:
Quilt