Das Oktober Update habe ich verpasst. Auch jetzt bin ich noch nicht ganz auf der Höhe der Zeit, aber es ist mein letzter Monat. Ich habe Mitte November 15 begonnen und am 5.11. müsste ich 360 Kreise geschafft haben. Na, vielleicht klappt das auch bis dahin. Die 5 verbleibenden werde ich mir sparen, ehrlich gesagt. Wenn ich jetzt rückblicke, bin ich mir nicht ganz sicher, wie meine Bewertung für mich ausfällt.
Auf der Plusseite ist ganz eindeutig:
Wow, ich hätte nie gedacht, dass ich durchhalte. –Ich habe wirklich alle notwendigen Teile für eine große Decke zusammen. — Die quilt-as-you-go Methode war eine gute Wahl für dieses Projekt. — Es war wunderbar, die anderen Teilnehmer zu verfolgen und ihre tollen Quilts im Entstehen zu sehen.

Auf der Minusseite:
Mensch, war das am Ende langweilig. — Ich hatte mich gleich auf ein Design festgelegt, da war kaum Platz für Spontanität und Entwicklung in dem Jahr.  — Es stand im November 15 fest, wie es im November 16 aussehen wird. — Das würde ich nicht mehr so machen. — Etwa nach einem halben Jahr habe ich nicht mehr regelmäßig Kreise gemacht. Die Idee, Farbe und Muster für den Tag auszusuchen, war damit sehr reduziert und stimmt nur noch in einigen Fällen.
Mein Ziel ist es aber bis zum Ende des Jahres eine fertige Decke zu haben. Ihr habt es gehört, erinnert mich daran, bitte!
Wahrscheinlich sind alle negativen Beurteilungen vergessen, wenn ich dann das fertige Stück sehe.
I missed the October linky party. Even now I´m not up to date with my circles. I started November 2015 and will have done with it November 5 th. 360 circles ( I will skip 5) . If I look back I´m not sure about my final judgment.
On the plus-side:
Wow, I never had thought that I would keep up.  — I have all elements for a big quilt — quilt-as-you-go was a good choice for this project. — It was great to follow the linky parties and see all these wonderful works in progress.
On the negative-side:
OMG – it was dull at the end. — From the beginning I was bound to a design – no place for development and spontaneity. In November 15 it was certain how the quilt will look like in November 16.  I wouldn`t repeat that any more.
My intention is to finish this quilt till the end of the year. You have heard it – please remember me!
But most likely all negative judgments will be forgotten when I look at the finished quilt.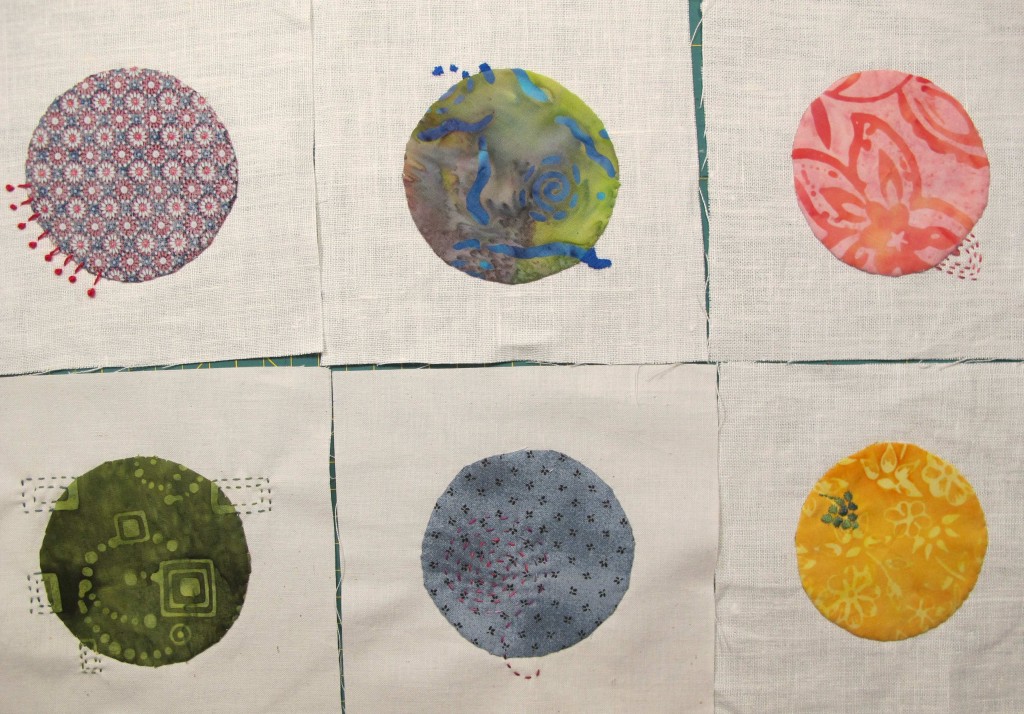 Sticken war die einzige Möglichkeit etwas spontaner zu sein. / Stiching was the only possibility to be more spontaneous.
Schaut mal wieder bei Audreys linky party vorbei / Just take a look at Audreys linky party.