Vor zwei Jahren hatte mich Eva angestupst Kurse bei Carla Sonheim zu nehmen. Nach Jahrzehnten ohne Malen und Zeichnen habe ich diesen Bereich wieder entdeckt. Nach verschieden Kursen bei Carla und Jane LaFazio und anderen muss ich nun meine Zeit aufteilen zwischen Nähen, Sticken und Malen, Zeichnen. Wieso hat der Tag nur 24 Stunden.
Two years ago Eva pushed me a little to take classes of Carla Sonheim. After decades without paining and drawing I started again. After several classes of Carla and Jane LaFazio I have to find time for both sewing and stiching and painting and drawing. But unfortunately a day has only 24 hours…
Normalerweise bin ich eine Pingelliese, alles muss möglichst genau sein. Die Kurse bei Jane LaFazio haben das sehr unterstützt und ich hab da auch große Fortschritte gemacht. Hier ein Beispiel aus Janes Kurs:
Usually I´m a bit finnicky. All has to be correct and as perfect as possible. In Janes classes I learned a lot for this way of drawing. Here an example: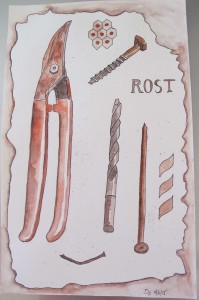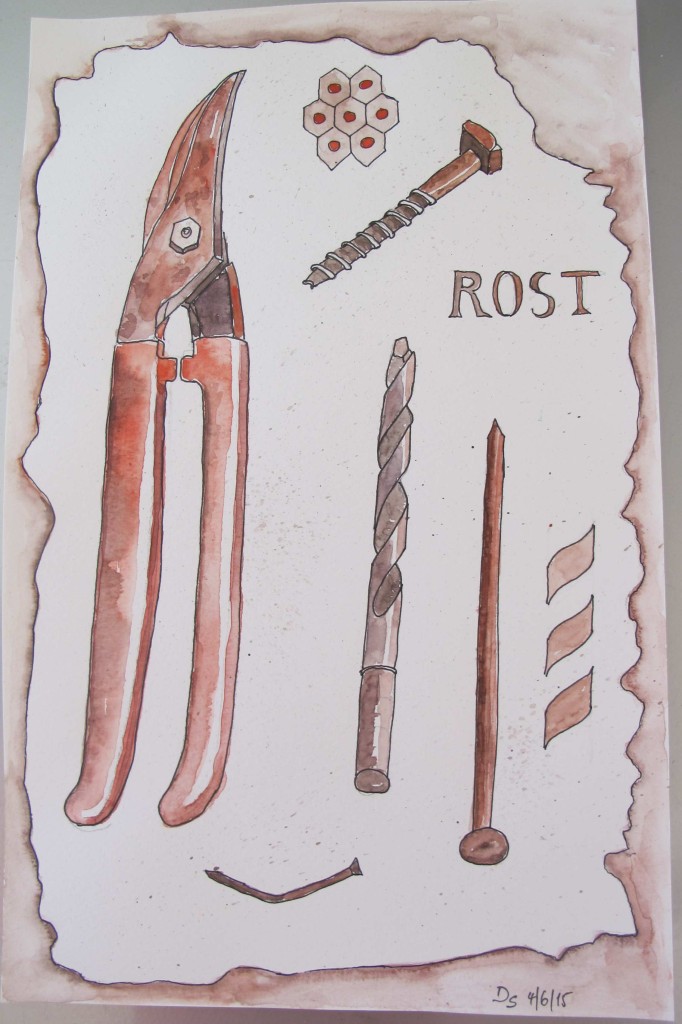 Carla geht das alles sehr spielerisch an, nimmt einem den Druck, den der Anspruch auf Perfektion macht. Der Spaß und die neuen Erfahrungen stehen im Vordergrund. Deshalb habe ich mich für den Jahreskurs " Y is for Yellow" angemeldet. Die Aufgabe dieser Woche ist u.a. blind drawing : Da wird nur auf die Vorlage geschaut und nicht auf das Blatt und den Stift. Natürlich kommt ein völlig schräges Bild heraus.
In Carlas classes all is very playful. No demand for perfection. Important is fun and the new experiences you make.  Therefore I take part in Carlas year long class: "Y is for Yellow". Assignment for this week: blind drawing. You look at the object you want to draw not at your paper and pencil. Sure the result will be wonky .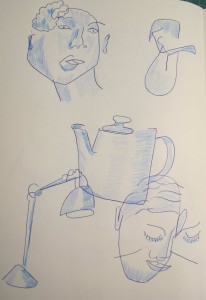 Leicht abgewandelt, damit ist es nicht zu schräg wird, ist die Picasso "Kopie". Man darf gucken, wohin der Stift neu angesetzt wird. Dann wird mit Wasserfarben und Gel medium in mehreren Schichten gemalt. Es ist so entspannend : kein Anspruch auf Genauigkeit nur Spaß und Erfahrungen machen.
A little different the " copy" of Picasso. You are allowed to look where you start the line. Then you paint with watercolor and gel media in several layers. That is so relaxing: No pressure for a perfect result only fun and experience.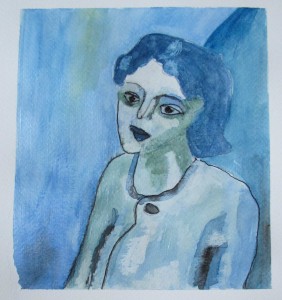 Die Technik hab ich noch an einem kleinen Stillleben ausprobiert.
A little still life in the same technique.