Jane LaFazios neuer Kurs "Watercolor sketchbook – designs from life" hat gerade eben begonnen. Neben ihren wunderbaren Anleitungen zum Umgang mit Aquarellfarben liegt hier ein neuer Schwerpunkt. Aus den realistischen Bildern heraus gilt es hier zu abstrahieren und eine Form, ein Muster zu entwickeln. Davon wird dann eine Schablone oder ein Stempel hergestellt. Das finde ich besonders interessant, weil es neben dem Drucken auch viele Möglichkeiten zum Sticken gibt.
Lektion 1 beginnt – wie beim letzten Mal mit Blumen. Dazu habe ich die ganze Woche meine neue Kletterrose auf dem Balkon beobachtet.
Jane LaFazios new class "Watercolor sketchbook – designs from life" just started last Friday. Beside her instructions to draw with watercolors she gives us a new focus : to find a shape or pattern in the realistic drawings which you can transform into a stamp or stencil. That´s very interesting because it gives a new view onto embroidery.
Lesson 1 starts  – as last time with flowers. Therefore I watched during this week my new rambler rose.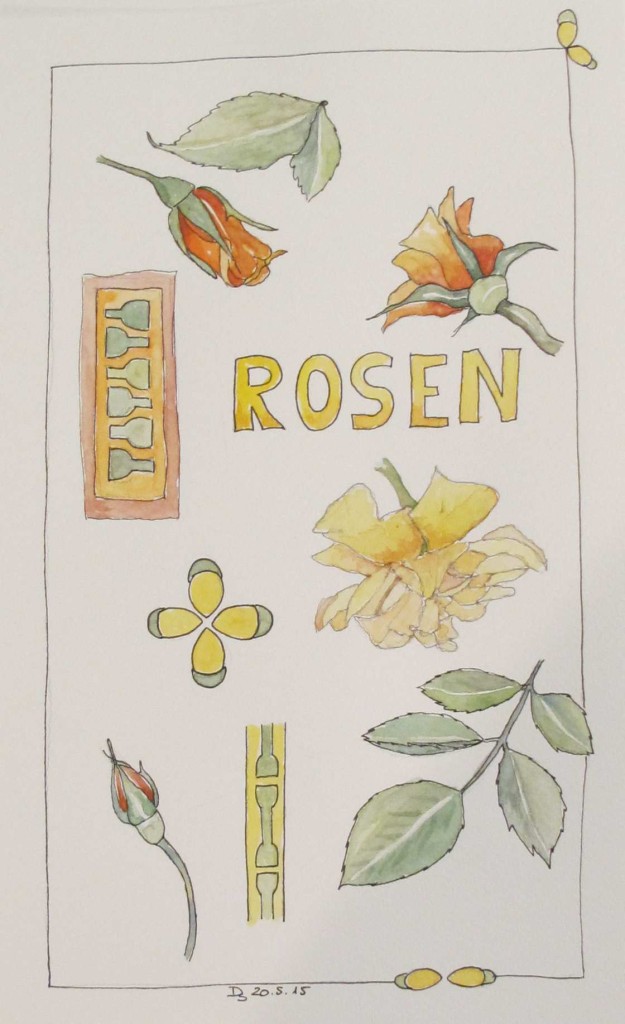 TEST Maria
One Comment / Ein Kommentar