Im Augenblick arbeite ich intensiv an zwei Geburtstagsgeschenken – natürlich kann ich davon keine Bilder zeigen, bevor die nicht verschenkt sind.
Deshalb hier etwas Neues. Immer wieder bin ich auf die Technik " Korak" gestoßen und wollte es ausprobieren. Aber da immer so viel auf der Liste steht, habe ich es weggeschoben. Dann haben mich aber Annelieses Blogeinträge           ( hier und hier)  wieder sehr gereizt. Korak hat den Vorteil, dass es eine Überall-Arbeit sein kann. Wenn die Quadrate erst einmal zugeschnitten und die Dreiecke gebügelt sind, werden sie mit der Hand aufgenäht. Ideal für unterwegs oder Fernsehabende auf dem Sofa.
Faszinierend finde ich, dass obwohl die Stoffe überhaupt nicht zusammenpassen, ein Ergebnis entsteht, das einen nicht zusammenzucken lässt – zumindest mich nicht. Die Form schafft über die Stoffe hinaus eine eigene Harmonie – lebendige Harmonie allerdings. Der gestreifte Unterstoff wird später nicht sichtbar sein, ich habe ihn nur gewählt, weil er einen guten Anhaltspunkt gibt zum Aufnähen. Ich weiß noch nicht, was daraus werden soll, zunächst macht es einfach mal Spaß.
Einen wunderschönen Korak-Quilt im Entstehen kann man auch hier finden.
At the moment I´m working on two birthday presents which I cannot show bevor giving it. So here something new.
I´m fascinated by the technique called " Korak" and wanted to try it out, even if there are a lot of ideas on my list too. Annelieses blog pushed me to do it ( here and here). Korak is perfect to work on in every place. Once you have cut out the squares and pressed them, it is sewn by hand.
I´m fascinated too by the vivid harmony of the piece – even if the colors don´t go well together at all the triangles create a sort of harmony. In my opinion at least… You won´t see the striped fabric at the end but it gives me orientation. I don´t know yet where it will lead me but for now it´s a lot of fun.
A beautiful Korak Quilt you can find here.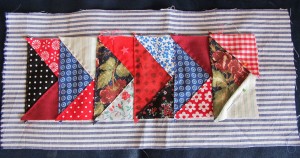 Schlagworte / Tags:
Korak
TEST Maria
One Comment / Ein Kommentar