Als mein kleiner Enkelsohn in seinem jungen Leben schon zum zweiten Mal im Krankenhaus war, fand meine Freundin Eva, dass er dringend ein Nothelferle bräuchte zur Abwehr von weiteren Unglücken. Und am besten würde er wirken, wenn wir ihn zusammen herstellen würden. Also schickte sie mir das Nothelferle zu und ich sollte ihn besticken und fertigstellen.
When my little grandson has been for the second time in hospital, my friend Eva told me, that he needed a little helper. And it would work the best when we both would work on it together. So she send me the little helper and I had to finish it.
Hier ist alsoEvas Teil:
Thats Evas work: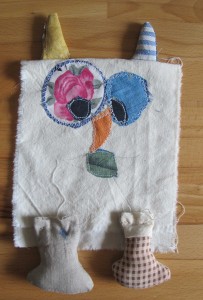 und meine Ergänzung und Fertigstellung:
and my work:
So, der Nothelfer wird seine Aufgabe gut erfüllen. Beide Seiten sorgen dafür. Da bin ich sicher.
So this little helper with his front and backside will do his work well, I´m sure.