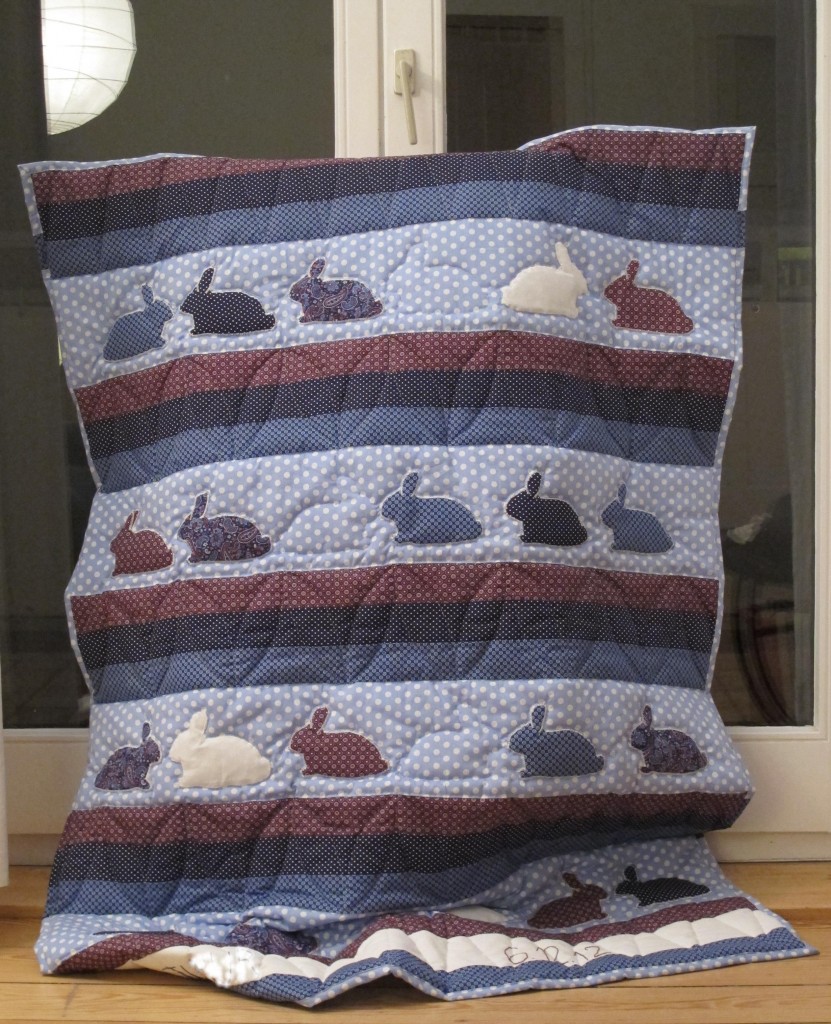 Heute ist endlich der erste von 4 Babyquilts fertig geworden. Er ist mit der Maschine genäht und handgequiltet, weil ich mich mit dem Maschinenquilten noch schwer tue. 
Ich mache meine Babyquilts immer ein wenig größer, damit sie noch länger genutzt werden können.( Außerdem waren meine Quilts noch nie pünktlich zur Geburt fertig :-) )  Das Häschenmotiv war ein Wunsch der jungen Mutter. Für den zweiten liegt der Stoff parat und der Entwurf ist im Kopf, für den dritten muss ich noch Stoff ergänzen – so groß das Stofflager auch ist, irgendwas fehlt immer noch. Der vierte liegt noch in weiter Ferne. Dieses Baby kommt erst im Juli.
Finally I finished the first of four babyquilts today. It is machine sewn and handquilted.
I always make them a little bigger so the kids can use their quilt longer. The bunnies have been a wish of the mother. For the second all is prepared, for the third I just have to buy some more fabric and for the last one … the baby will come in July so there is plenty of time to think it over.

TEST Maria
One Comment / Ein Kommentar