Wenn es draußen so grau und trüb ist, brauche ich immer regelmäßig ein bißchen Seelenfutter. Heute wurde es ein Chicoree Auflauf mit Süßkartoffeln als Beilage.
When its so grey and hazy outside, I need some food that can cheer up my soul a little. Today I chose a chicory casserole with sweet potatoes as a side dish.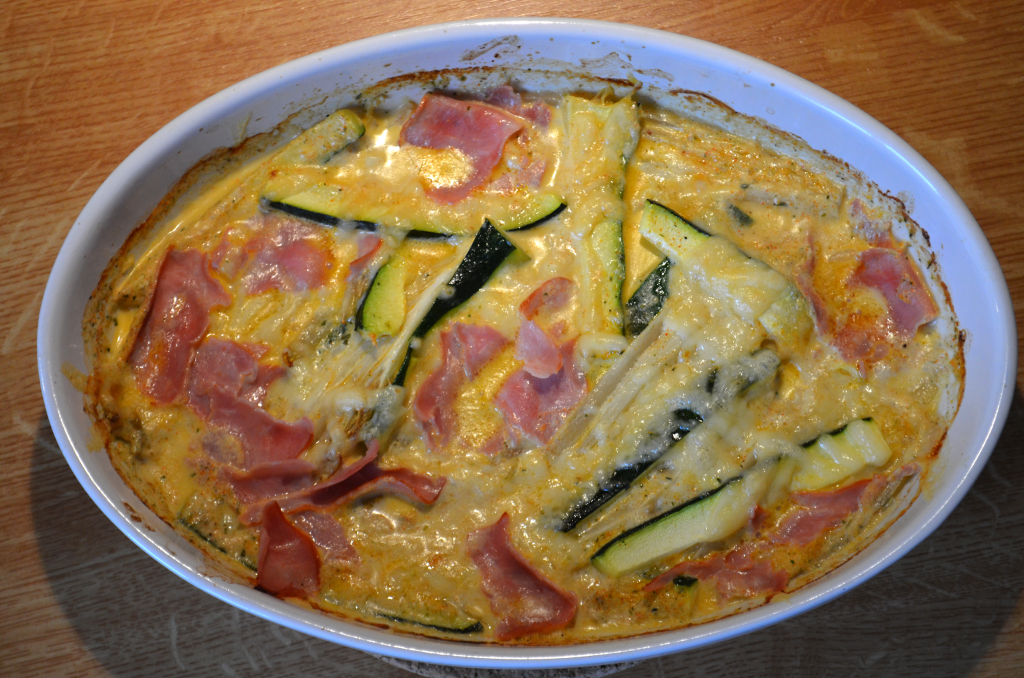 Zutaten / Ingredients:
Chicoree / chicory
Zucchini
gekochter Schinken / ham
Emmentaler / Emmenthal cheese
Schmand oder Sahne / Sour Cream or Cream
Süßkartoffeln / Sweet potatoe
Gewürze: Olivenöl, Butter, Gemüsebrühe, Paprikapulver, Cayenne Pfeffer, Salz & Pfeffer
Spices: Olive Oil, Butter, Broth, Paprika, Cayenne Pepper, Salt & Pepper
In eine Auflaufform den in Streifen geschnittenen Chicoree und die Zuchini legen, Schinken dazurupfen.
In a casserole place sliced chicory, zucchini and ham.
Etwas Gemüsebrühe mit dem Schmand vermischen und noch würzen mit Paprika, Cayenne und Salz & Pfeffer. Die Sauce über das Gemüse verteilen. Ein kleines bißchen Olivenöl drüber sprenkeln. Dann geriebenen Emmentaler darüber verteilen. Das ganze für ca. 20 – 30 Minuten in den Ofen.
Mix up some broth with the sour cream and spice it up with paprika, cayenne and salt & pepper. Pour over the vegetable and ham mix. Sprinkle a little bit olive oil over it. Then add graded cheese. Leave in oven for about 20 – 30 minutes.
Die Süßkartoffeln schälen und in Würfel schneiden. In einem Topf mit Salz und Pfeffer und ein bißchen Wasser kochen. Wenn sie gar sind gebe ich gerne ein ganz klein wenig Butter hinzu.
Peel the sweet potatoes and cut in cubes. In a pot cook it with salt & pepper and a little water. When done I like to add a little chunk of butter.
Guten Appetit! Enjoy!