Everywhere in Paris you can find a Croque-Monsieur or a Croque-Madame on the menu. Searching google and WIKI does not bring up much about where this dish really comes from and how it was created, but it seems to be first noted in Paris around 1910 (WIKI). So its a very typical parisian speciality.
If done well this dish can be really good. Its basically one or two pieces of sliced bread with ham and melted cheese on top. The madame has a fried egg on top of that, which makes it even more delicous, I find. Usually its served with a salad and a portion of fries.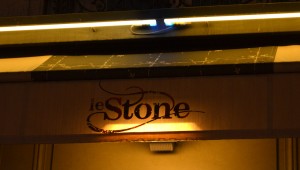 A good one I had at the 'Le Stone' Café at the corner of rue du Fauberg Saint-Antoine and rue Trousseau in the 11th Arrondisement. We have been at the café twice so far, always after going to the Marché d'Aligre. The first time we went the waiter was all by himself on a sunday. I think he had to prepare the drinks and serve at the same time and the place was quite packed. It was an event to watch him, running around crazy, spilling water, memorizing drinks, forgetting bills, forgetting change, but all in a very pleasant way.
So we came back a second time and I had the Croque Madame. (This time they had about 3 waiters and somebody behind the bar and it was less people)
Schlagworte / Tags:
Paris