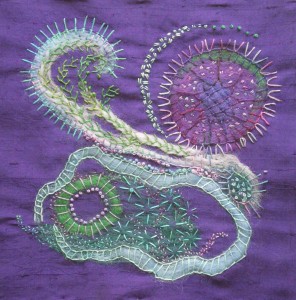 Es hat Spaß gemacht einfach ohne Plan drauf los zu sticken. Der Untergrund ist Seide, die Flächen sind mit Filzwolle unterlegt.
Im  letztem Jahr im März habe ich an einem Online-Stickkurs "Freies Sticken"  von Anne Lange teilgenommen und seither hat es mich nicht mehr losgelassen. Im Augenblick bin ich beim Fortgeschrittenenkurs dabei, der jetzt im April begonnen hat.
It was fun to stich without any plan. I stiched on silk and used unspun wool to put under. 
Last year in march I took part in an online-workshop "free embroidery" by Anne Lange. It opened a new world for me. Now it is  the second workshop which keeps me busy.